City Council Appreciation Breakfast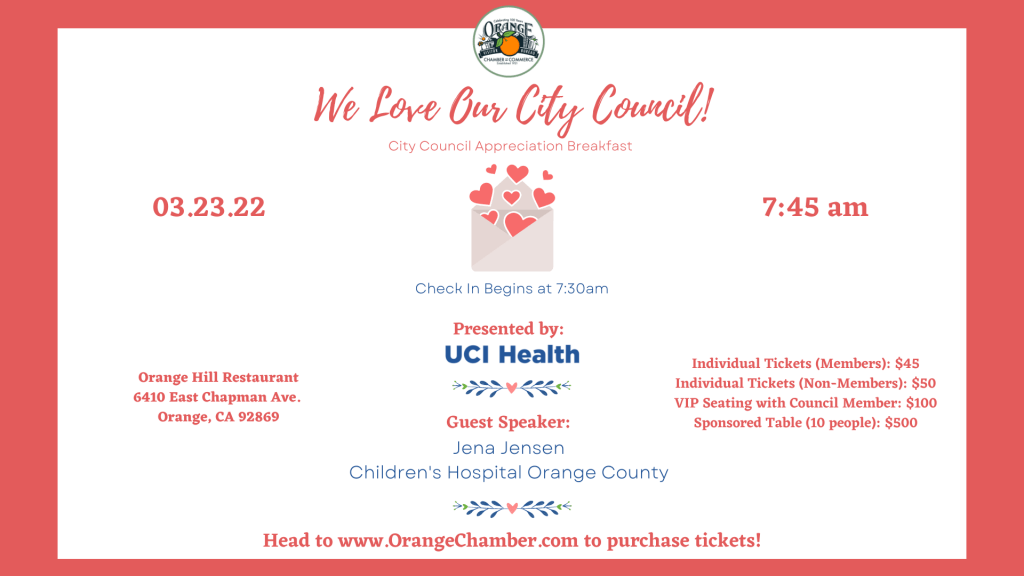 Join us on March 23rd, 2022 at 7:45 am!
 The theme for this year's breakfast is, "We Love Our City Council." Please join us in celebrating the Orange City Council for their service to the Orange community! Our guest speaker is Jena Jensen from Children's Hospital Orange County (CHOC) and this event is presented by UCI Health. Tickets can be purchased online using the link below!
Pricing:
Individual Tickets (Members): $45
Individual Tickets (Non-Members): $50
VIP Seating with Council Member: $100
Sponsored Tables: $500*
If you would like to sponsor a table or have any questions, please reach out to Elizabeth@OrangeChamber.com.
* If you would like to pay online and are interested in being a table sponsor, please only sign up using your name and choose the Sponsored Table option. Once payment is processed, staff will go into the system and manually enter the rest of your attendees.