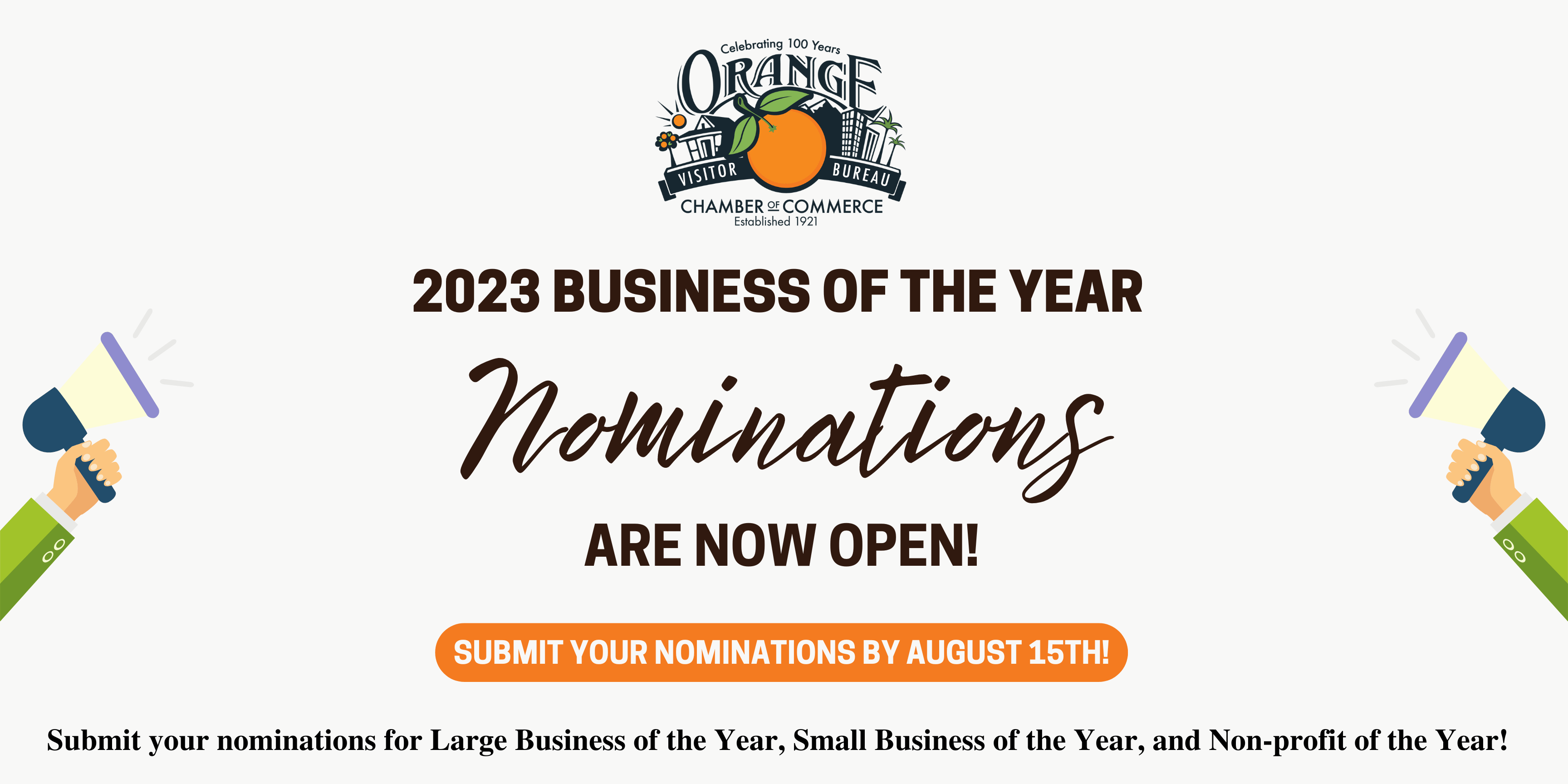 The Orange Chamber of Commerce is accepting nominations for the 2023 Business of the Year Awards.
We invite you to nominate your choices for Large Business, Small Business, and Non-Profit Organization of the Year.
Nominations will close at 11:59 pm on August 15th, 2023.
Large Business and Small Business* of the Year Criteria
Nominee must be a member of the Orange Chamber of Commerce in good standing.

Business may be nominated by Chamber members, board members, or community members.

Nominated business may not be owned by city officials or candidates running for office.

Nominee must have been in business for at least 3 years.

Nominee must demonstrate one or more of the following characteristics: business growth (increased sales, profitability, expansion), industry innovation, and/or economic support for the city and surrounding region of Orange County

Nominee must demonstrate community and/or charity involvement.
* Definition of a Small Business is 50 employees or less.
Non-Profit of the Year
The non-profit organization of the year award is presented to an organization that has made a difference over the past year, enhancing the daily lives of citizens targeted by its services.
Significant contributions through its programming and/or activities improving the overall quality of life for the Orange community

Demonstration of positive, proactive, ongoing efforts to improve the community – supported by its volunteers, board members, and staff

Significant increase in volunteer efforts or numbers of citizens served through its programs/services

Significant, substantial contribution in the previous year to the social, civic, or charitable health and well-being of the Orange community

Sets itself above the others through its recognized leadership within the community for fostering ongoing community development

Member of the Chamber of Commerce and an active presence in the Orange community for at least two years
The Orange Chamber of Commerce Board of Directors will make the final selection based on the above criteria.
The awards will be presented at the State of the City on October 6, 2023.