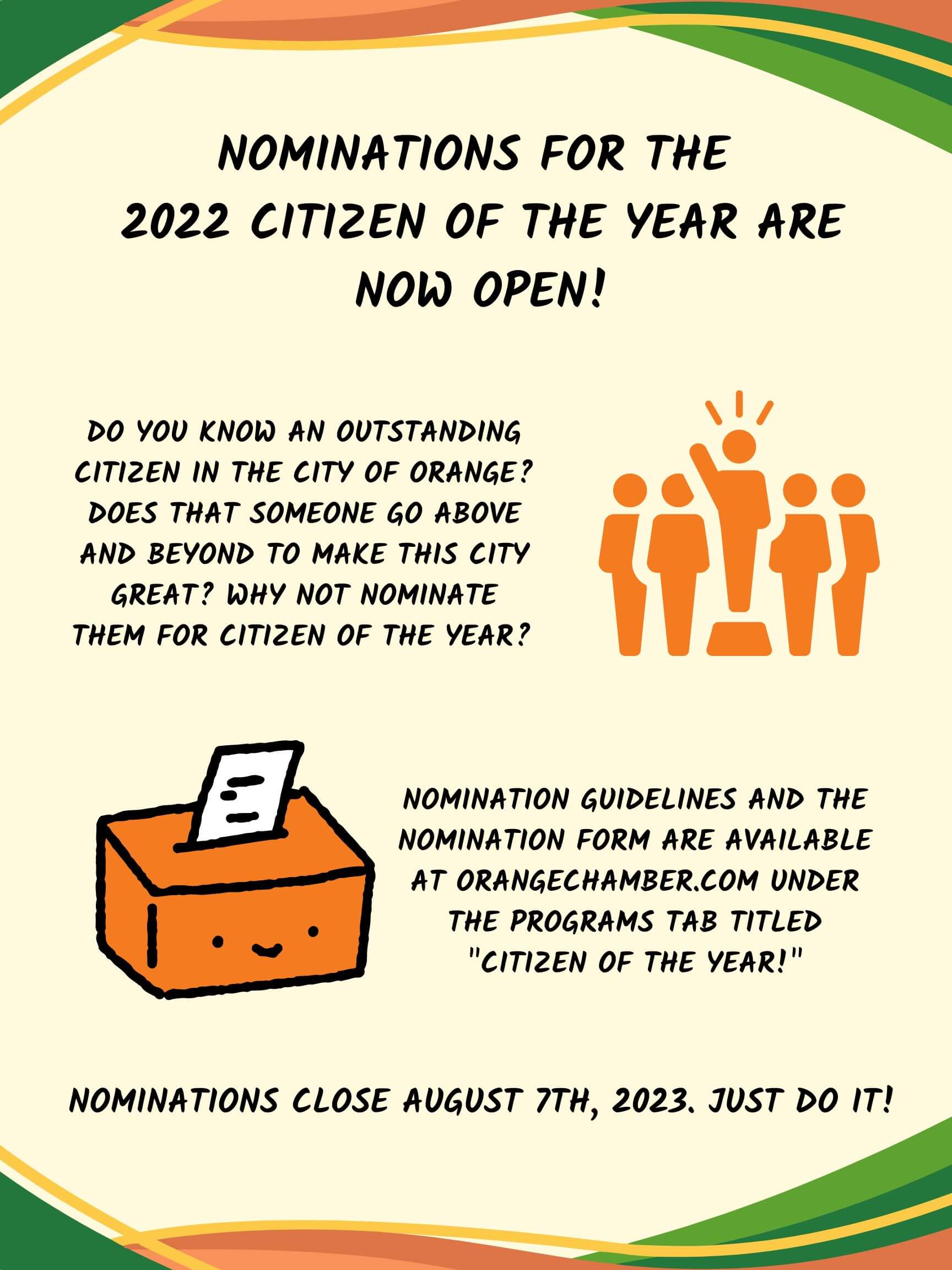 The recipient must live, work, or provide service in the City of Orange.
Service to the Orange community includes charitable and other outstanding service, as well as humanitarian acts or heroism. The recipient must be an active participant in boards and organizations and not just a member.
Meritorious service can be within the last year or over a span of years.
Recognition will be given for leadership and performance for work done above and beyond his/her paid profession. It is acceptable to be recognized for work in your profession.
Current Elected officials, Chamber Board Members and staff are not eligible.
Nominations can come from individuals or organizations. Nominations may come from anyone - not limited to Chamber members or citizens of Orange.
Posthumous nominations accepted up to five years from nominee's passing.
One to four letters in support of the nominee are requested and must be submitted with the nomination form.
The Citizen of the Year will be announced at the State of the City on October 6, 2023.
A person may be nominated a second time if s/he did not win the first time.
Nomination packages are valid for two years.
Nominations are now closed for the
2022 Citizen of the Year award.
The Citizen of the Year award, sponsored by the Orange Chamber of Commerce, celebrates an individual who has unselfishly given to the community and who has created a more dignified, unique place in which we all work and live.
The nominee should have participated in a broad scope of activities over the course of more than one year. This is not an award for a single activity, no matter how well it was executed.
The individual who best exemplifies the ideals of the Citizen of the Year will be selected.
In order to be considered by the committee as a nominee for the Citizen of the Year, the sponsoring organization must submit an official nomination form with supporting documentation in a timely manner.
Consideration will be given to individual nominations by the committee. In exceptional cases, where the applications of the nominee involve individuals who have been full, complete partners in all their efforts in the community, a joint nomination will be accepted by the committee.